This custom legacy feature has been deprecated in favor of the actively developed core MediaWiki feature, recent changes on the Unified Content Platform (UCP).
See this page for more information on the new platform.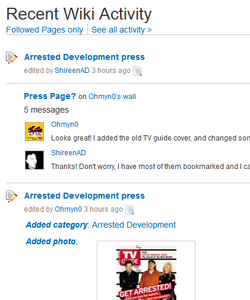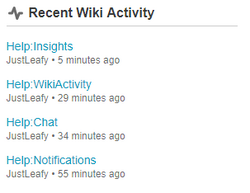 The Wiki Activity feature allows users to look at the latest contributions to a wiki. It's a great place to see what the latest edits are to the community.
Step by step
To access it, navigate to the "Wiki Activity" link in the "Explore" tab of the navigation bar. It looks like this:


It can be also accessed via the Wiki Activity button located on the top right of the page header. It looks like this:


Wiki Activity lists the most recent contributions to the community, including changes to any content page, user, or user talk page and categories as well as new comments, photos, and pages.
To see the newly added content, simply follow the links there.
If you would like to view more details, click the "See all activity >" link which will bring you to Recent Changes.
Things to keep in mind
The feature does not list all of the changes to the wiki (for example, it doesn't show added redirects or changes made to templates). Use Recent Changes if you would like to see all changes.
See also
Further help and feedback
Community content is available under
CC-BY-SA
unless otherwise noted.